Last Saturday, more than 30 talented cosplayers representing characters from the Diablo, StarCraft, and Warcraft universes gathered from all over Europe at gamescom 2013 for our world-renowned Blizzard Costume Contest.
Check out photos from the event and learn more about top three winners below!
The artistry and craftsmanship displayed on stagethis year was certainly a sight to behold. In fact, the costumes were so good that the judging panel (made up of Blizzard game developers) had an incredibly tough time selecting the 1st, 2nd, and 3rd place winners. 
After much deliberation and debate, three victors emerged and were rewarded handsomely for their creations.
Third Place:
In third place, winning a Diablo III mouse, Diablo III headset, and Diablo III mousepad (all by SteelSeries)—plus a super-rare Mini Tyrael statue from BlizzCon 2011—was Christiane L. for her costume of a Wizard from Diablo III. Inspired by Wei Wang's iconic piece, Christiane's costume was made of cotton, silk, leather, synthetic leather, and various lining materials.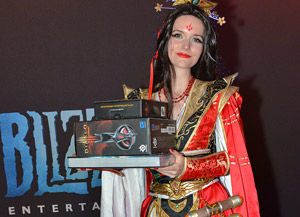 Second Place:
Just missing out on the First Place prize, but still going home with a fantastic AlienWare 14 laptop, SteelSeries World of Warcraft MMO Gaming mouse, and Mini Tyrael statue, was Lisa L. as Sister Benedron, a powerful Human Priest from Azeroth. You may recognize this gorgeous costume from Series 3 our officially-licensed DC Unlimited: World of Warcraft action-figure line.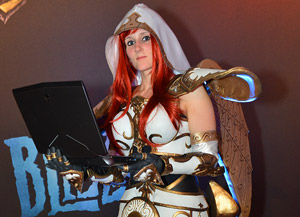 First Place:
But the judges' favorite costume this year was a larger-than-life male Barbarian from Diablo III, created and worn by Ralf Z. When not brandishing his exquisitely-made weapons or taunting the crowd with fierce battle cries, Ralf admitted he was thrilled to be awarded the top prize of an all-expense-paid trip for two to BlizzCon 2013, taking place this year on November 8-9. This prize is courtesy of Blizzard and our sponsors, J!NX and SteelSeries.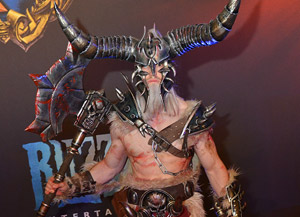 Congratulations to all of our finalists and winners! Be sure to visit our official gamescom 2013 site for additional photos, contest results, news, event information, and more.